---
Betty calls time after 45 years
---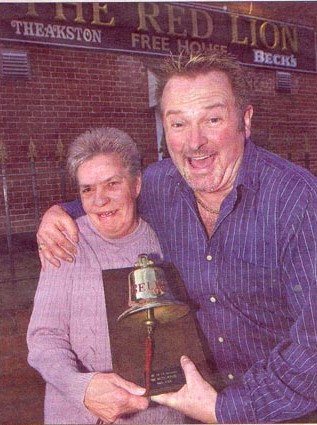 Barmaid Betty Brockhurst has pulled her very last pint after calling time on a 45 year stint at a South Staffordshire pub.
The 68-year-old has been a fixture at the Red Lion in Bobbington since 1960, first as a cleaner, then serving the customers.
Yesterday she stood behind the bar for the last time as friends, family and pub regulars gathered to say their goodbyes.
Brothers Darren and Jeremy Shaw, who now run the pub, laid on a party and also cracked open the champagne in Mrs. Brockhurst's honour.
The grandmother, who has lived in the village all her life, received the old pub bell as a gift mounted with a plaque saying "Time Betty, Please".
Mrs. Brockhurst said: "This place has been such a huge part of my life for the last 45 years, I will miss it.
I'm looking forward to having a bit of time to myself, to relax with my friends.
I don't know how many times I have rung that bell - it must have been millions."
Regular Frank Spittle said: "It will definitely be a little bit strange without her there behind the bar, but I'm sure she'll be back to see us all."
---