---
A well deserved ale for veteran cyclists.
---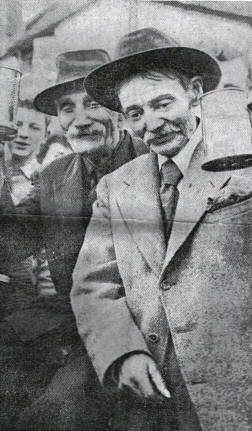 In the leafy lanes of the tiny village of Bobbington on Saturday, 82-year-old George Boldock's challenge to his life-long friend Jack Lawley ("I'm nearly 83") had been taken up.
The challenge was a half-mile tricycle race ending in front of the Red Lion pub.
The race was started by another octogenarian, ex-Regimental Sergeant-Major Frank Owen with typical military aplomb.
A downwards sweep of his hat gave the signal for a thousand people, including the 600 population of Bobbington to trot behind their favourites and shout encouragement.
The race lasted exactly four and a half minutes.
Clutching their silver tankards after the race - Jack (right) had scooted home by 50 yards.
Tthey looked sad and puzzled and occasionally they kept glancing towards a small cluster of farm workers, standing outside a barn, as if to make sure they were still in Bobbington.
"It was supposed to be just between me and Jack" said George,
"I'd never thought that it was going to end up like a circus"
---