WELCOME TO BOBBINGTON
IN THE COUNTY OF sTAFFORDSHIRE
Civic Award for Anne and Bill Hayhurst
Cllr Louise Jones had pleasure in presenting the Civic Award for 2016-17 to Mr and Mrs Astley in recognition of many years service and dedication to the Parish in general and to Corbett School.
We especially have to thank Kevin and Anne for the flower pots by the Post Office and Bobbington sign - something they kindly continued, without being asked, a tradition started by the late Cllr. Dawn Kellett.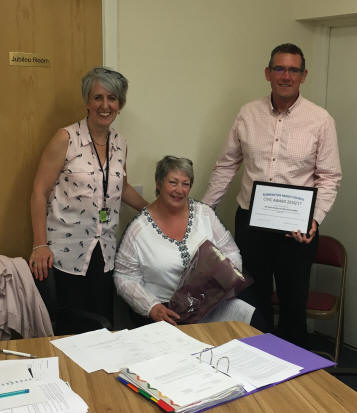 Every effort has been made to ensure that the information contained within this website is accurate. If you find any inaccuracies, please inform the Bobbington Webmaster and we will endeavor to correct the information as soon as possible.
Chipmonk Computing will not be held responsible for any loss incurred as at result of this, nor for any use to which the information may be put.

Designed and created by Chipmonk Computing